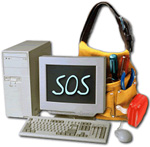 Has your business become highly dependent on computers and you dread the thought of your computer developing a problem at the wrong moment?
Why don't you get an annual maintenance contract with us and enjoy peace of mind.
We will:
Attend your faulty computer in the shortest possible time, usually the same day.
Repair/replace the defective components at our cost.

Do preventive maintenance of your computer every month.
Optimise the settings so that they work efficiently.

Check for virus, once every month.

Sunrise Computer Systems offer annual maintenance contracts for PCs, network components and laser printers
Costs:
Our standard annual maintenance contract is calculated on 12.5% of the new capital value of the computer.
The enhanced contract, which includes a monthly visit to carry out preventative maintenance, optimisation and anti-virus checks is calculated as above plus £200.