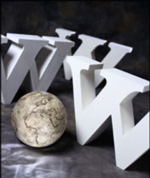 More and more businesses are utilising the Internet every day. With more than 20,000 domains a day being registered on the Internet, you and your company need to GET ONLINE NOW!
Simply contact us, and we will have your domain registered within a matter of minutes. As soon as we register your domain, we'll give you a free "Under Construction" page - even if you are not a Sunrise Computer Systems web hosting customer!
Register & Park service. Your chosen name will be registered with the appropriate international authorities, YOU will the own the name. A holding page will be set up with your details to tell the world that the chosen name is yours. E-mails sent to that name can be redirected to an email address of your choice e.g. hotmail, yahoo, telewest, etc. You can upgrade to a full website at any stage in the future.
Costs
The charge for our Register & Park service is only £18 per year for .co.uk, .com, .net, and .org domain names and £25 per year for .biz.
You may register your domain for any period between 2 and 10 years.